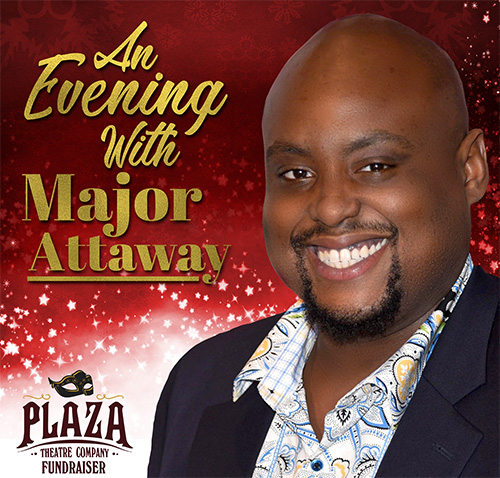 Monday, December 17, 2018 - 8:00pm
Broadway Star and DFW theatre legend Major Attaway triumphantly returns to the Dallas / Fort Worth Metroplex for a special one night only concert event.
We are proud to announce that Broadway Star Major Attaway, who is currently playing The Genie in Disney's Aladdin on broadway, will hop on his magic carpet and take a trip to Plaza Theatre Company in Cleburne, Texas.
Plaza Theatre Company at Dudley Hall is pleased to present the special one night only fundraising event "An Evening With Major Attaway". The concert will feature DFW theatre legend and current Broadway star MAJOR ATTAWAY in his triumphant first performance back in the Metroplex following his rise to stardom as The Genie in Disney's ALADDIN in New York City in which he is currently appearing.
Theatre goers from throughout DFW will remember Major from a variety of performances on stages all over the Metroplex, but Plaza Theatre Company patrons will fondly recall Major for his powerhouse performance on the Plaza stage in RAGTIME in 2012. It was his only appearance at PlazaCo, but one which left a lasting impression on all who saw the show.
"An Evening With Major Attaway" is being presented as Plaza Theatre Company's annual fundraising event to benefit Plaza's annual fund.
Tickets to the event are available in three tiers
Tier One - $175 - These VIP seats are the front two rows of the East and West sections of Dudley Hall. This limited number of seats also includes a pre-show reception and a meet-and-greet with Major where we will provide a professional photo prior to the concert.
Tier Two - $125 - These are for the remaining seats in the Hall excluding the back rows on the North, South East and West sections.
Tier Three - $75 - These are for the back rows of the North, South, East and West sections.